It came time to replace the battery on my 2006 Subaru Outback wagon. 8 years, 150,000 km travelled, and still working with the stock battery. Not bad. A few incidents this winter - leaving an interior light on for a few hours, and having problems starting the car led me to Costco for a very reasonably priced replacement Kirkland battery (very highly rated by Consumer Reports).
Replacing the battery was fairly easy and straightforward, I won't go into that here. But when it was time to tighten up the original battery clamp - there was no way I could get it to bind tight to the new battery post.
8 years life on this battery clamp - finished. Time for a replacement.
So, of course when your doing something on the weekend, there isn't an option to run to the dealer to get a replacement OEM battery clamp, and I wanted to get everything sorted out properly without wasting any more time. There are two cables which attach to this clamp on the vertical post on the clamp - pretty well identical to a standard marine terminal. So, off to Canadian Tire for a marine terminal.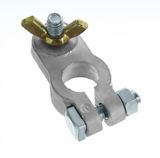 Catalog photo - Canadian Tire Marine Battery Terminal - $5.99 each
This ended up being about a 10 minute job once I had the part. The metal of this clamp is soft and malleable - allows you to get a perfect fit on the battery terminal, without any gaps. Will result in excellent conductivity and low resistance.
Use a set of pliers to shape the terminal to the battery post
Install the cables using the provided wing nut, make sure everything is snug. Take care tightening the clamp bolt - the metal is quite soft.
A good coating of vaseline to protect the terminal from corrosion. You can also use a spray on producet for this purpose.
And replace the insulating cover - this helps prevent a short in case of the hood contacting the battery in a collision.
10 minute job, and perfect conductivity. No issues with charging or starting, all good.